20th January 2023
Scam email warning
A number of people have reported receiving scam/phishing emails that are forged to appear to come from us, relating to alleged copyright infringements.
Below are 2 examples of the messages: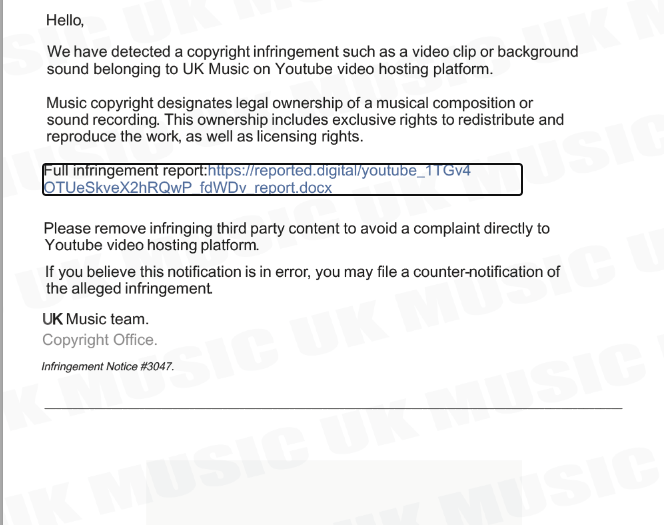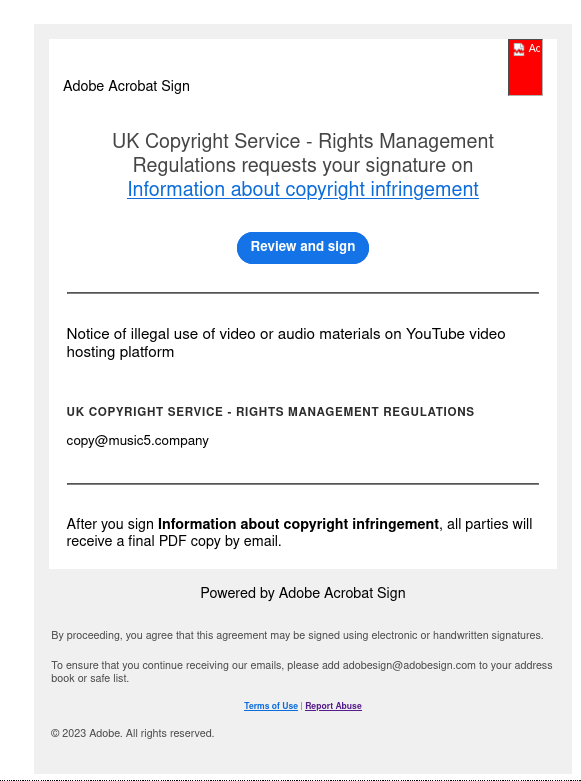 These messages did not originate from us and we believe this is part of a scam.
If you receive such a message, please be assured that we did not send it.
Unfortunately e-mail 'from' addresses are very easy to fake for anyone with a little programming knowledge. It is a common tactic of criminal gangs to fake the 'from' address to make it scam emails seem legitimate. (If you check the headers of the email the sender IP will not match any of our servers, meaning we did not send it).

We do not detect infringement or send take down notices.
This type of email would never come from us.
In the event of a copyright infringement only the copyright owner or his/her representative can take action. Our role is to provide evidence to support the copyright owner in the event of a disputed claim or legal case. We do not take legal action on behalf of the copyright owner.

Do not open any files or links to untrusted sources (1st example).
In the first example the link in the message goes to 'reported.digital', and when we checked the whois record it was only registered on the 18th January. So the domain was most likely purchased solely for the purpose of this scam. The domains 9music.company, 5music.company, 2music.company, etc. also seem to feature in the scams.

Report abuse to Adobe (2nd example).
In the second example this seems to be trying to get the recipient to fill in an actual Adobe Acrobat Sign document. We are not sure exactly how this scam works, but our guess would be that it is either trying to get the user to agree to pay a sum of money (and presumably perhaps force a scenario to gain access to their bank details), or perhaps just plain old identity theft.
Either way, do not sign any documents and please report this to Adobe; in the examples we have seem, this is an actual Adobe issued document, so the abuse link did go to Adobe; but, when reporting, do please make sure it that the link does actually go to Adobe in case this scam evolves further.